Vehicles
OK, so they're not strictly characters, but the motorcycles, cars, boats, and planes often played an equal role to that of the supporting cast!
Motorcycles
In the earliest volumes, the motorcycle (along with walking) was the boys' preferred means of transport. As the years passed and car culture developed, the bikes appeared less and less.
Cars
(Info coming soon!)
Boats
The Sleuth
(Info coming soon!)
The Napoli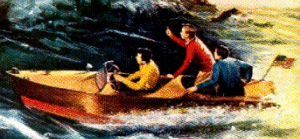 The Napoli on the Atlantic Ocean (From The House on the Cliff).
The Envoy
Planes
The Skyhappy Sal