Back cover design (Canon)
Although the
front cover
justifiably gets the lion's share of attention, the back covers of the Hardy Boys books have evolved over the years, and can be a useful tool for quickly narrowing down the printing date.
Back covers of dust-jacket editions
Dust-jacket editions featured a variety of back covers, usually displaying advertisements for other Grosset & Dunlap series (frequently Tom Swift Jr. in later years). I hope to post some scans at a later date.
Back covers of picture-cover editions
After the publisher switched to "picture cover" (pictorial cloth) format in 1962, the back cover was dedicated to a list of volumes in the Hardy Boys series. The list was updated fairly regularly as new volumes were published.
Two major designs were used in the PC era. The first is the "Emblem" cover, used from 1962: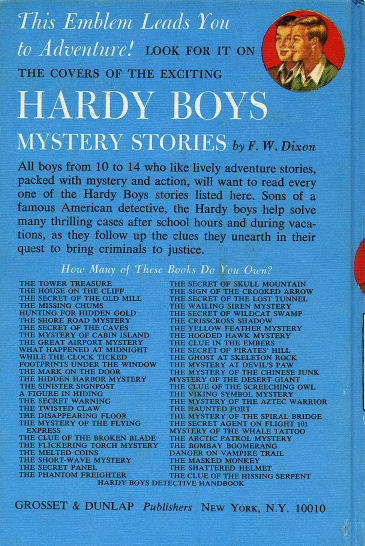 Around 1971-72, some Emblem covers were printed without the white lettering. These editions are scarce.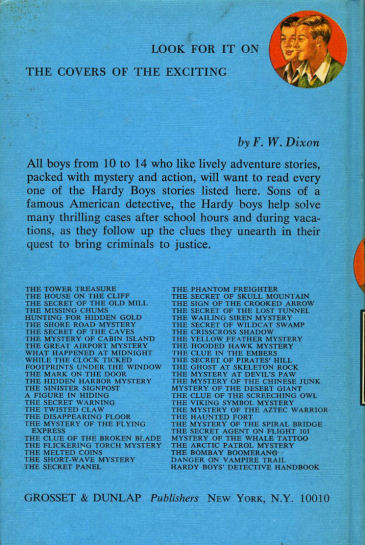 A late variation of the Emblem cover occurred around 1975, when the font used for the title list was changed to a bold sans-serif font.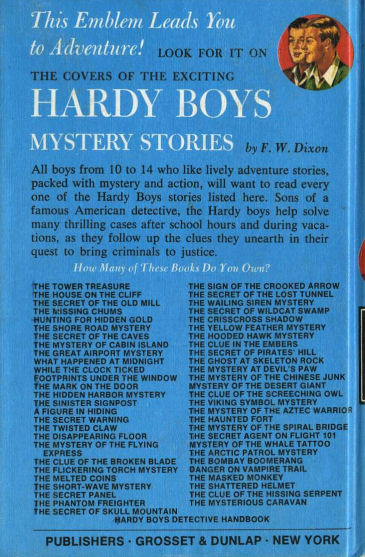 The second major back cover design, adopted around 1976, is the "Exciting" cover. In this design, all of the text is set in sans-serif type. Note that in the blurb, "All boys" has been changed to the gender-neutral "Anyone".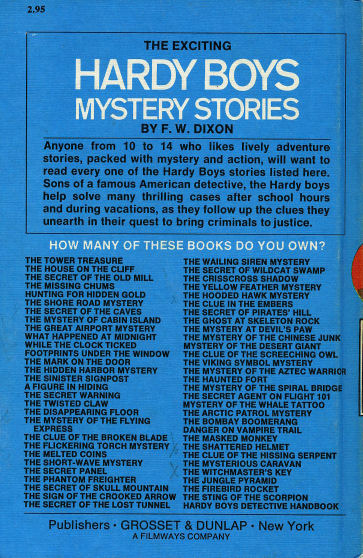 A simplified version of the "Exciting" cover, with the blurb removed, came into use in the early 1980s. The font has also been changed; compare the front leg of the "R" in "HARDY" with the cover above to see the difference between the two typefaces.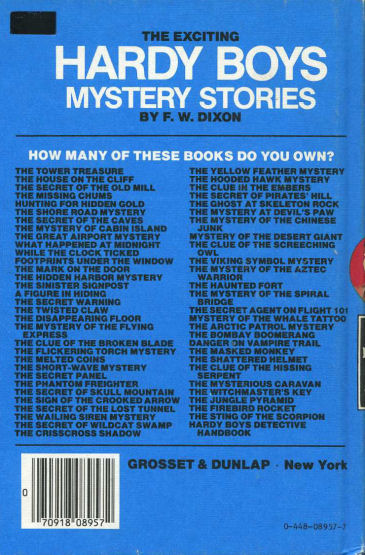 Back covers of "flashlight" editions
The laminate "flashlight" covers in use since 1987 have only a partial series list on the back cover: