About the Hardy Boys Casefiles
The Casefiles series, aimed at older readers, was published by Archway Paperbacks (an imprint of Simon & Schuster) between 1987 and 1998. The series contains 127 volumes.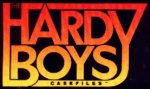 In an attempt to attract older readers, the Casefiles featured a "new-and-improved" Frank and Joe who, as an advertisement claimed, "find themselves investigating international terrorism, espionage rings, religious cults, and crime families. Whether they're in Europe or Bayport, the Hardy Boys are never far from life-or-death action."
The Casefiles were a drastic change from the established Hardy Boys world. Some of their major features:
Iola Morton is killed by a terrorist car bomb in the first volume.
The books become more grisly. Frank and Joe use firearms and investigate murders.
The glamourous aspects of international intrigue are played up.
Frank and Joe take a more serious interest in girls.
The boys embrace high-tech gadgetry, and Frank becomes a computer whiz.
Meanwhile, Joe becomes a dim-witted roughneck.
Chapters no longer have titles, and there are no illustrations.
The boys collaborate with the Grey Man, who represents a cloak-and-dagger crimefighting unit. (This is almost as cheesy as SKOOL and UGLI from The Secret Agent on Flight 101...)
Finally (and most unforgivably), Joe swears. This is even worse than carrying guns. The Hardy Boys don't swear!
Iola's death seems to have served two functions. First, it gives Joe a chip on his shoulder, allowing him to become a brutish S.O.B. Second, it removes the impediment of a steady girlfriend, allowing him to become a jealous womanizer. This is not the cheerful, impetuous Joe we knew and loved in the original series!
Fun facts:
Number of times the word "mystery" occurs in a Casefiles title: 0.
Number of times it occurs in an original series title: 17.
Number of times the words "dead" or "death" occur in a Casefiles title: 10.
Number of times they occur in an original series title: 0.
Now, maybe this is my anti-Casefiles bias talking, but I think this neatly sums up the differences between the Casefiles and the original Hardy Boys books.
Covers
As you can see, flames figure prominently in many Casefiles covers!
The cover of volume 121 features Paul Popowich as Joe and Colin Grey as Frank, as they appeared in the short-lived TV series of 1995. All of the Casefiles covers from this period featured Popowich and Grey in various mysterious poses that had little relevance to the events of the book.